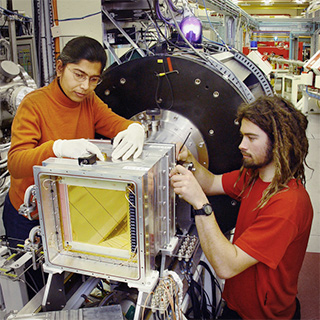 Technical Tour -
Heavy Ion Accelerator Facility
Duration: 45-60 minutes
Time: Thursday 10 March – starting from 0915
Cost: $70.00
The Heavy Ion Accelerator Facility (HIAF) comprises the 14UD pelletron accelerator and a superconducting 'booster' linear accelerator (LINAC) housed and operated by the Department of Nuclear Physics in the Research School of Physics at the Australian National University.
Meet at the hotel lobby at 8:45am. Delegates will be guided to walk from the hotel lobby through the car park to the back street to board the bus for the tour. The bus stop is behind the hotel on Henty Street.
Please ensure you have had breakfast before boarding the bus. Food is not allowed on the bus. Water and snacks will be provided to the delegates.

After the tour at HIAF, a coach will stop at the National Arboretum where you can go for a leisurely stroll before heading back to Canberra Rex Hotel. A coach transfer to and from Canberra Rex Hotel will be provided for those who have registered for the workshop.
Itinerary:
| Time | From | To |
| --- | --- | --- |
| 0900-0910 | Canberra Rex Hotel (gathering at 8.45am) | Heavy Ion Accelerator Facility |
| 0915-1015 | Heavy Ion Accelerator Facility (56-57 Garran Road, Acton, ACT) | |
| 1020-1040 | Heavy Ion Accelerator Facility | National Arboretum |
| 1045-1145 | National Arboretum | |
| 1155-1230 | National Arboretum | Canberra Rex Hotel |